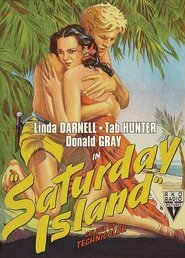 Island of Desire (1952)
Based on and screenplay adapted from a Hugh Brooke story that appeared in "The Saturday Evening Post" and was not a novel: Lieutenant Elizabeth Smythe, a U.S. Military hospital-ship nurse, and Marine Corporal Michael J. "Chicken" Dolan, are the only survivors when a hospital ship hits a mine in the South Pacific during World War II. The two spend months alone on a deserted island and, in spite of the age-difference, fall in love…and for other obvious reasons. Their peaceful existence is shattered when an airplane crashes on the island and the only survivor, William Peck, also falls for Elizabeth. Back in civilization, after being rescued by a passing Navy-ship, they all see each other in a different light and have different reactions than expected.
Duration: 93 min
Quality: DVD
Release: 1952
A South-Seas Shangri-La of romance and adventure beyond your wildest dreams!
6.4