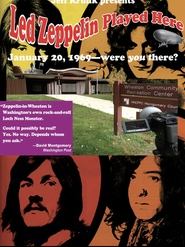 Led Zeppelin Played Here (2013)
1969. Man lands on the moon. Half a million strong at Woodstock….and Led Zeppelin perform in the gym of the Wheaton Youth Center in front of 50 confused teenagers. Or did they? Filmmaker Jeff Krulik chronicles an enduring Maryland legend, of the very night this concert was alleged to have taken place, January 20, 1969, during the first Presidential Inauguration of Richard Nixon. Led Zeppelin Played Here presents a mid-Atlantic version of what was happening nationwide as the rock concert industry took shape. Featuring interviews with rock writers, musicians, and fans, and several who claim they were witnessing history that night.
Duration: 80 min
Quality: DVD
Release: 2013
January 20, 1969 - Where you there?
8