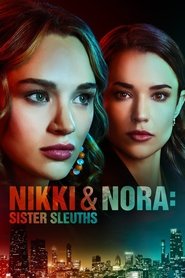 Nikki & Nora: Sister Sleuths (2022)
Fraternal twins Nikki and Nora are forced back into each other's lives when they inherit a detective agency. As they solve a murder, they realize their differences may be their greatest advantage.
Views: 4
Director: Kevin Fair
Cast: Angela Nisheeta, Ashley Diana Morris, Blake Stadel, Bronwen Smith, Burkely Duffield, David Attar, Dawn Harvey, Dean Mckenzie, Hunter King, Madison Smith, Mike Dopud, Mila Jones, Rhiannon Fish, Sarah Jones, Stacy Fair, Tina Grant, Tony Alcantar, Zachary Loewen
Country: USA
Duration: 84 min
Quality: 720p HD
Release: 2022
Catching killers is a family affair.
4.4