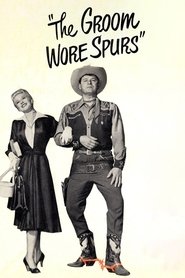 The Groom Wore Spurs (1951)
Actor Ben Castle is a phony singing cowboy who can not ride, sing, or act, and is afraid of guns and horses and the first one out the door when trouble breaks out. His studio hires attorney Abigail Furnival, to get him out of trouble with a big-time gambler because he can not pay off a gambling debt. And the next thing she knows is that she has married him. The gambler decides to write off the debt when he learns that Abigail is the daughter of an old friend. But the gambler is murdered, and Ben appears to be involved.
Duration: 80 min
Quality: HD
Release: 1951
Lawyer Ginger Rogers is hired to keep dumb cowboy Jack Carson out of trouble.
5.5