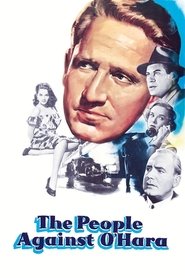 The People Against O'Hara (1951)
Jim Curtayne, formerly a successful criminal defense attorney and currently a recovering alcoholic, has turned to civil law because of his problems with the bottle, daughter Ginny delays marrying in order to keep her dad on the straight and narrow, but when the son of neighborhood friends is accused of murder, he is lured into returning to criminal law. Complications arise as the initially overconfident Curtayne experiences lapses inn memory and judgment as well as an uncooperative client. He finds himself well over his head as he tries to reclaim his self-confidence and professional standing.
Duration: 102 min
Quality: HD
Release: 1951
O'HARA MIGHT BEAT MURDER - IF HIS LAWYER CAN BEAT THE BOTTLE!
6.8