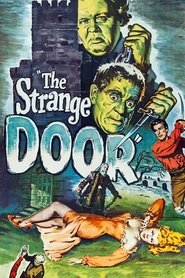 The Strange Door (1951)
Noble-born cad Denis (Stapley) has been tricked into a forced stay at the eerie manor of the Sire de Maletroit (Laughton), an evil madman who can't get over the death of his beloved, twenty years after she married his brother (Cavanagh) instead and subsequently passed away during childbirth. Maletroit is determined to have his revenge: the brother has been stowed away in the dungeon for two decades, while he's convinced his disreputable house guest will make a suitably hellish husband for his niece. As luck would have it, the young couple manage to fall in love, and with the help of manservant Voltan (Karloff), they try to make their escape, but not before a final confrontation with Maletroit in the dungeon's crushing deathtrap.
Duration: 81 min
Quality: HD
Release: 1951
Robert Louis Stevenson's masterpiece of Terror !
6.3