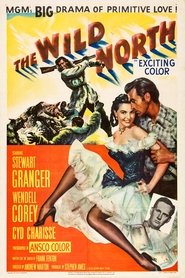 The Wild North (1952)
Jules Vincent, a happy-go-lucky, outgoing French Canadian trapper in the wild Northwest, befriends a beautiful Native American girl, and although he makes an enemy of bully Mike Brody, he agrees to travel with him. When Brody tries to kill them, Vincent kills him in self-defense. He is pursued by a by-the-book, idealistic Constable Pedley, who believes in the mounties' credo "we always get our man." The country is rugged and fraught with dangers like white water rapids, avalanches, wolf packs and desperadoes. After capturing Vincent, the inexperienced Mountie finds he is in no shape to get back to civilization without Vincent's help. Pedley is torn between fulfilling his duty and freeing the man who has saved his life.
Duration: 97 min
Quality: HD
Release: 1952
M-G-M's BIG Drama of Primitive Love!
6.6